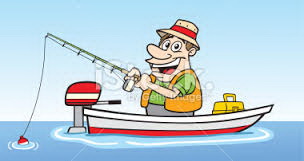 KARL DROESE (Br. 171) kdroese@comcast.net 376-0468
PAUL DUBAW (Area 2)
All SIR members and guests are welcome and encouraged to participate in fishing trips as well as attend the monthly meetings. Next meeting will be Thursday, November 16, at the Legends Sports Bar and Grill at the Diablo Creek Golf Course at 4050 Port Chicago Highway in Concord, starting at 8:30am.
Whether you fly fish, spin fish, troll or bait fish there will be events of interest. If you are new to fishing or are interested in trying a different type of fishing we have experienced and knowledgeable members happy to share their expertise, and even their equipment. With nearly 100 events scheduled throughout the year, some type of fishing is available almost every week.
October Results: The best salmon season in years is coming to an end. Karl Droese, Paul Dubow, Ken Konzak, Gordon Linbaugh, Mario Moratorio and Jack Waddell fished on the Feather River catching 8 salmon up to 27 lbs. Other members caught salmon in the ocean and Delta. Karl Droese and Paul Dubow fished for two days on Pyramid Lake NV, catching and releasing 26 Lahontan cutthroat trout on the first day and 24 on the second day. Six members came home with ling cod and rockfish from the ocean. Several catfish were caught at San Pablo reservoir. Another member caught bass & trout on Lake Shasta. Several members caught stripers on the Delta. The fishing group held its annual SIRs in the Kitchen fish fry with Br. 8 consuming large quantities of fish supplied by the members.
Activities Scheduled for November and December: Several sturgeon/striper trips to Pittsburg, Richmond and the Mothball Fleet; trout fishing in San Pablo reservoir and Shadow Cliffs; plugging for stripers and black bass on the Delta; ocean crabbing with traps; the annual event scheduling meeting; and the annual Christmas dinner at Zio Fraedos.