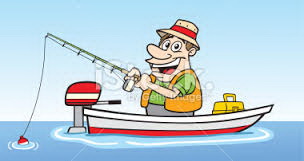 KARL DROESE (Br. 171) kdroese@comcast.net 376-0468
PAUL DUBAW (Area 2)
All SIR members and guests are welcome and encouraged to participate in fishing trips as well as attend the monthly meetings. The next two meetings will be Thursday, October 26th at the Legends Sports Bar and Grill at the Diablo Creek Golf Course at 4050 Port Chicago Highway in Concord, starting at 8:30am.
Whether you fly fish, spin fish, troll or bait fish there will be events of interest. If you are new to fishing or are interested in trying a different type of fishing we have experienced and knowledgeable members happy to share their expertise, and even their equipment. With nearly 100 events scheduled throughout the year, some type of fishing is available almost every week.
September Fishing Activity: SALMON! The best ocean salmon fishing in years continues and several members were successful on boats fishing outside the Gate. The fish are beginning to head up the various rivers to spawn and fishing on the Sacramento and Feather rivers has picked up. In addition to salmon, striped bass are starting their Fall run in the rivers. Several members had excellent results fishing the ocean for rockfish and lingcod. Other members have been fishing several Northern California lakes and rivers for trout, mostly with good results. Fly fisherman Don Mittlesteadt caught and released a monster 31 inch rainbow trout. He also traveled to Christmas Island, catching bonefish.
Activities scheduled for October and November: Salmon and rockfish trips out the Gate. Salmon fishing on the rivers; sturgeon/striper and black bass outings in the Delta; trout and catfish fishing at San Pablo Reservoir and Shadow Cliffs; multi-day trips to Almanor/Eagle Lakes, Lake Davis and Pyramid Lake NV.