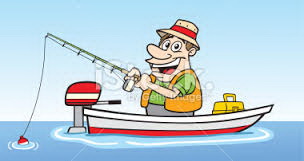 KARL DROESE (Br. 171) kdroese@comcast.net 376-0468
PAUL DUBAW (Area 2)
All SIR members and guests are welcome and encouraged to participate in fishing trips as well as attend the monthly meetings. Next meeting will be Thursday, August 24th, at the Legends Sports Bar and Grill at the Diablo Creek Golf Course at 4050 Port Chicago Highway in Concord, starting at 8:30am.
Whether you fly fish, spin fish, troll or bait fish there will be events of interest. If you are new to fishing or are interested in trying a different type of fishing we have experienced and knowledgeable members happy to share their expertise, and even their equipment. With nearly 100 events scheduled throughout the year, some type of fishing is available almost every week.
July Fishing Activity: Karl Droese (Br.171) and Dick Thomson (Br.8) fished the Columbia River near Woodland Washington along with 2 others for 3 days, catching and releasing a total of 99 sturgeon. Gary Yancey, Rick Fend and Karl Droese (Br. 171); Richard Bal and Ed Dijkman (Br. 8); Paul Dubow (Br. 146) and 6 others traveled to Gustavus Alaska for 5 days, bringing home 136 coho salmon and over 40 halibut. Several oversize halibut (up to 300 lbs) were released. Locally, the salmon bite outside the Gate turned on with members landing nice sized kings. In addition members caught halibut in the Bay, rockfish in the ocean, black bass, bluegill and crappie in the Delta, and shad in the rivers.
Activities scheduled for August and September: Several salmon and rockfish trips out the Gate; sturgeon/striper and black bass outings in the Delta; a kokanee trip to Lake Berryessa; trout and catfishing at San Pablo Reservoir; salmon fishing on the Sacramento River; our annual summer backyard picnic; and our annual SIR's in the kitchen fish fry.