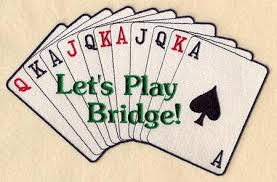 GREG TCHERKOYAN (Br. 171) gresta2@sbcglobal.net 838-0361
STEWART KNUDSEN (Br. 174) svknudsen619@aol.com 376-4919

The group meets at the Moraga Hacienda on the second and fourth Tuesdays of each month. Please arrive by 9:50 am. Play starts promptly at 10:00 am. Bring $5 and a bag lunch. Call Greg or Stu for further information.