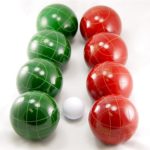 LAURI LEHTIN (Br. 171) LT46CHC@comcast.net 254-7723
ED PROTIVA (Br. 174) edprotiva1@comcast.net 254-1631
Bocce is played every Tuesday and Friday throughout the spring and the summer. The group meets at 10 am, just beyond the bandstand at the Moraga Commons, located at the corner of Moraga Road & St Mary's Rd (next to the bandstand). The cost is all of $2; the game is really easy to learn and is great fun, including a lot of good chat. You can be a part of this great group of guys, and can play on either or both days.
The Bocce game consists of 4 players on each court, creating 2 teams of 2 members each. Each team has one player at each end of the court. It is quite easy to learn.