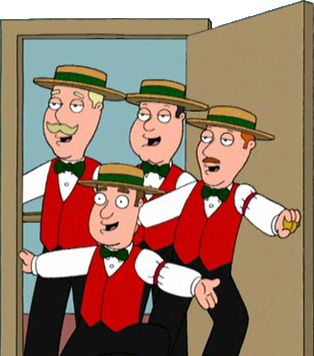 BRAD DEWEY (Br. 171) ebdewey@att.net 376-3349
RON LEIKER (Br. 174) leikerinda@comcast.net 376-3884

The SIRpremes are a barbershop octet, composed of members from both 171 and 174, that sing songs in four-part harmony. By having two people on each part, the problems caused by absences are greatly reduced – obviously. The group's self-determined purpose has been to periodically add a little variety to the monthly luncheon meetings of Branches 171 and 174, plus the Christmas luncheon with the ladies.
The group meets every Tuesday at 3:00 pm at Brad Dewey's. Contact Brad Dewey, Sam Zorich (376-7799), or Ron Leiker for additional information.